Grief Share
February 11th - May 13th, 2018
$16
If you have lost a loved one and are looking for support you are invited to join this group for men and women. The 13 week class will be held on Sunday mornings, 10-11:30 am, starting February 11 through May 13, 2018 at Essex Alliance Church, 37 Old Stage Rd., Essex Jct., VT in Room 102. Cost of workbook for class is $16.00. For more information contact Ron Caldwell: ron_caldwell@comcast.net or Care Ministries 802-878-8213, x. 140.
Divorce Care
February 11th - May 13th, 2018
$25
Divorced or separated? Come join this 13-week class, Sundays, February 11 through May 13, 2018, 5:30-7:30 pm. This class is for men and women at 145 Pine Haven Shores Rd., Shelburne, VT. Cost is $25.00. For more information contact Sandy: 802-425-7053 or sandybrisson@gmail.com.
Gearing Up: Gender Roles Class - Room 204/206
April 15th - April 29th, 2018
Exploring Gender Roles and the People of God
Have you wrestled to understand some traditional Christian perspectives on gender and specific roles for men and women? How can well-meaning Christians reach such different conclusions on what the bible says? This group will explore gender roles among God's people, examine key biblical passages and their interpretation, and look to Jesus' example of how he interacted with women. Our goal is a deeper understanding of God's word and what it means for all people to live most fully as children of God and as we humbly work together for the kingdom of God.
Gearing Up: Spiritual Warfare Class - Prayer and Care Room
April 15th - April 29th, 2018
Equipping for Spiritual Warfare
Ever wonder what Christians mean when they talk about a "spiritual battle?
This class will look at God's word to learn what spiritual warfare is and how to be equipped to fight the spiritual battles followers of Christ face.
Gearing Up: Impacting Culture Class - Room 204/206
April 22nd - May 20th, 2018
Light in a Post Christian Culture
Romans 12:2
You have more reach and opportunity than you may realize! Through group discussions and Biblical teaching, this class will give you practical ways to engage in the culture in which we live, and explore how renewing our minds can shape a great spiritual legacy.
First class on 4/22 will start at 9am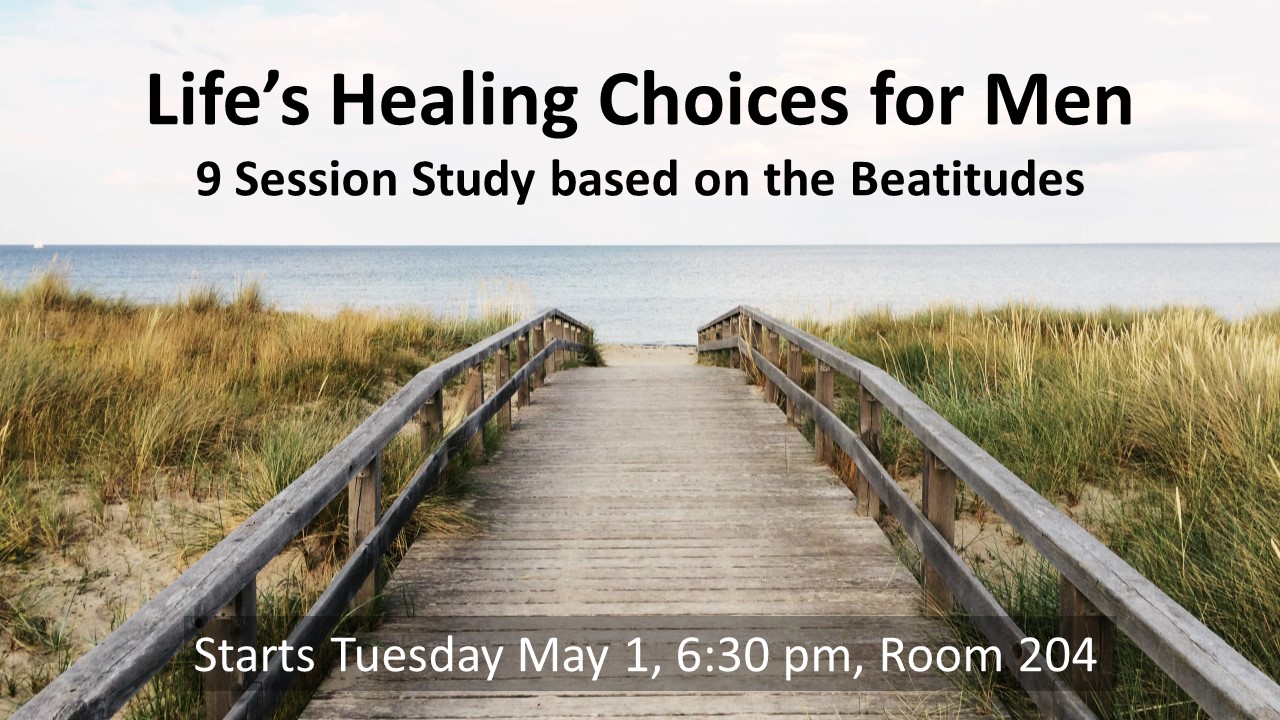 Life's Healing Choices
May 1st - June 26th, 2018
$23
We've all been hurt by other people, we've hurt ourselves, and we've hurt others. And as a result, every single one of us ends up with some sort of hurt, hang-up, or habit. But the question we all face is, where do we go from here?
Following the Beatitudes from Jesus' Sermon on the Mount, this bible study series teaches the fundamental steps in recognizing and releasing our hurts that keep us from finding real answers, real hope, and enjoying God's promises.
Eight life-changing sessions taught by Pastor Rick Warren on DVD, will take you step-by-step through the recovery and self-discovery process. Includes questions, memory verses, practical application, and more.
Sessions include:
Admitting Need - The Reality Choice

Getting Help - The Hope Choice

Letting Go - The Commitment Choice

Coming Clean - The Housecleaning Choice

Making Changes - The Transformation Choice

Repairing Relationships - The Relationship Choice

Maintaining Momentum - The Growth Choice

Recycling Pain - The Sharing Choice
This class FOR MEN ONLY will be held at Essex Alliance Church, 37 Old Stage Rd., Essex Jct., VT on Tuesday evenings, May 1 thru June 26, 2018, 6:30 - 8 pm, in Room 204/206.
Book and study guide are $23. For more information contact Steve at 802-363-1069.
High School Mission Trip
July 8th - July 14th, 2018
$600
When: July 8-14th
Where: Envision Site in Providence Rhode Island
The cost of this trip is $600. A Deposit of $100 is due to be able to reserve your spot on the trip. There are limited spots available. Registration closes on April.16th. We have also made payment dates for the remaining balance owed.
Payment Dates and Amounts:
Deposit: $100 by April.16th
Second Payment: $300 by May.6th
Third and Final Payment: $200 by June.10th
We will have three, mandatory, team meetings on June. 19th, June. 26th and July.6th. These will be training meetings for the students.
Contact Grady: grady@essexalliance.org if you have any questions about this trip.
Middle School Summer Camp Trip
August 11th - August 15th, 2018
$475
When: August 11-15th
Where: Saranac Lake, a Younglife Camp
Cost: $475 (this covers transportation to and from camp as well as all activities while at camp)
After your registration is complete, an email will be sent to you with all the necessary forms. There is a $100 deposit due at time of registration to secure a spot.
Have Questions? Contact Grady: grady@essexalliance.org